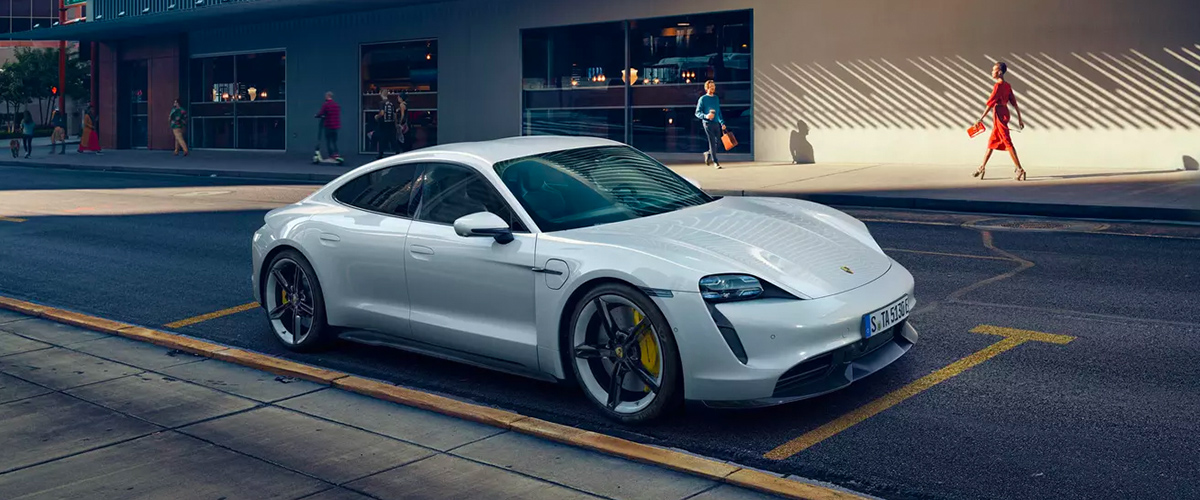 Discover the New 2020 Porsche Taycan

Soul, electrified.
Porsche fans everywhere are eagerly awaiting the 2020 Porsche Taycan release date, and it's easy to see why. The brand-new Taycan is the first fully electric sports car offered by Porsche, and the 2020 Taycan interior promises to provide comfort on every eco-friendly ride around Los Angeles. Want to learn more about 2020 Taycan specs and pricing? Visit our Porsche dealership near Los Angeles, CA, to find out the 2020 Porsche Taycan price when meeting with our Porsche finance team. We can help you preorder a new Taycan so you can drive around Southern California in this brand-new, environmentally-friendly sports car as soon as the 2020 Taycan release date arrives.
The 2020 Porsche Taycan interior is comprised entirely of recycled materials, creating a wholly leather-free environment. Featuring a 10.9-inch infotainment display and optional passenger display, the 2020 Taycan interior provides cutting-edge technology alongside its inventive interior material. Driver controls are also largely touch- and voice-command based, creating a revolutionarily sleek user interface.
Wondering about 2020 Porsche Taycan specs? This electric sports car features an 800-volt battery that can generate up to 774 pound-feet of torque and go 0-to-60 mph in 2.6 seconds, combining eco-friendliness with the power to turn every ride around Los Angeles into a good time. Its 0 g/km CO2 output means you can reduce your carbon footprint while enjoying a luxurious sports car experience. Want more information about 2020 Taycan trims? The 2020 Porsche Taycan is being produced in two trims; both the Taycan Turbo and Taycan Turbo S are all-wheel drive, meaning there's plenty of utility to this brand-new, electric Porsche sports car.