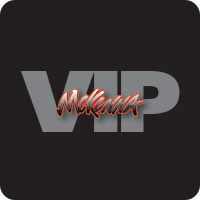 McKenna Porsche proudly offers McKenna VIP benefits.*

As part of the McKenna Automotive Group, McKenna Porsche strives to build lifetime customer relationships by providing each customer with an experience that exceeds their expectations in a friendly, professional and efficient manner. We treat our customers as we would our family while helping them meet their transportation needs. It is our goal to be your life-long provider of premium automotive products and services. Every customer who purchases a vehicle at McKenna Porsche receives McKenna VIP benefits.

*Vehicle must be purchased at McKenna Porsche to qualify. Must have VIP sticker in front left windshield, and McKenna Porsche plate frames on your car.
McKenna VIP Benefits
At McKenna Porsche, we pride ourselves on our commitment to customer service. We believe in treating everyone who sets foot on our lot with the respect that they deserve. At McKenna Porsche, you're not just a customer; you're a VIP.
Everyone who buys a vehicle from us receives several benefits as part of our McKenna VIP program. In order to qualify, you need to have bought your vehicle from McKenna Porsche, you need to have the VIP sticker in your front left windshield, and you need to have McKenna Porsche frames on your car. Assuming you fulfill all of those simple criteria, you receive a multitude of benefits to make owning your Porsche even sweeter.
When it's time for your regular auto maintenance, we're here to help make things a little easier. We know you don't want to wait at the dealership while your car is serviced, so we'll pick your car up for you. We provide complimentary pick-up and delivery with our McKenna flatbed trucks. We'll even provide you with a Porsche loaner vehicle with your service appointment. Our onsite body shop personnel will help keep your Porsche running smoothly, and scheduling an appointment is easy with our 24/7 appointment booking.
If you have any questions about our VIP program, or anything else Porsche related, we're happy to help. Give us a call at (877) 240-7844 to get in touch, or come pay us a visit here in Norwalk, CA. At McKenna Porsche, we're proud to help out drivers from all over the Los Angeles, Anaheim, Yorba Linda, and Whittier area. Let us know what we can do for you today.






 



Complimentary Pick-Up & Delivery


...with our McKenna flatbeds for most service appointments.


 



Porsche Loaner Vehicles


...with your service appointment.


 



Onsite Body Shop Personnel


...to keep your Porsche looking brand new.


 



24/7 Appointment Booking


...to conveniently schedule your next service appointment online.


 



South Coast Plaza Valet


…enjoy free valet parking at the mall while shopping. For vehicle purchases over $75k.